Pellet line mainly includes biomass pellet production line, wood pellet production line and rubbish derivation fuel production line. Biomass pellet making machine produces various biomass pellet fuel...
Briquette machines are used to produce biomass briquettes by a series of crafts, like coarse and fine shredding, drying, eliminating pollutants, forming, packing, etc. The briquettes are up to the...
Subsidiary machinery for wood pellet production plays a vital role in producing biofuels. Biofuels can be used in countries, towns, departs, families and large-scale biomass power plants. They are ideal fuels for...
People use knowledge and methods of science and technology to purposefully create conceptions and plans of engineering products. This is called engineering design. These products...
Beijing Panda Pellet Machinery Co., Ltd is a professional manufacturer and supplier of complete equipment for biomass fuel production line. Our company adopts and develops advanced technology of foreign large-scale industrial wood pellet production line. Furthermore, we have cooperated with world-renowned Italian IMAL-PAL Group, Energy Conservation Center of State Forestry Administration, Chinese Academy of Forestry, Nanjing Forestry University, Beijing Forestry University, Northeast Forestry University, etc. to engage in developing such machines. In order to solve the problem of increasing energy constraints and environmental pollution, our company combines advanced foreign technology and experience of with our own practice and experiment to successfully develop complete biomass fuel production technology. The processed materials of biomass fuels can be stuffs left by wood processing and artificial board production (sawdust, shaving, sanding, waste wood and brush wood), crop straw and other flammable biomass stuffs. All these materials can be processed by equipment and made into biomass fuel. Technical indicators of this kind of wood pellet production line meet international standards.
Shapes of Biomass Fuel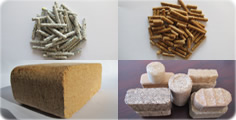 ---